Fazoli's

E Carmel - Indiana
10:30 AM
-
10:00 PM
10:30 AM
-
10:00 PM
10:30 AM
-
10:00 PM
10:30 AM
-
10:00 PM
10:30 AM
-
10:00 PM
10:30 AM
-
10:00 PM
10:30 AM
-
10:00 PM
Deals + Specials
Monday
Whole Pizza
Whole Pizza with 8 Breadsticks just $8.99
$8.99
Tuesday
Kids Meals
All Day with adult entree purchase. Limit 3 per adult entree purchase.
$0.99
Wednesday
Senior Meal
Add a small drink for just $1
$4
Thursday
Family Meal
Family meals include 8 breadsticks and a family salad. Serves 4.
$4 Off
Happy Hour
Italian Breadstick Slider
Everyday between 2pm-4pm and 8pm to close.
$1.50
Happy Hour
Pepperoni Pizza Breadsticks
Everyday between 2pm-4pm and 8pm to close.
$2
Happy Hour
Small Drink or Italian Ice
Everyday between 2pm-4pm and 8pm to close.
$1
Fundraise at Fazoli's. Free & Simple.
GroupRaise is a new way of organizing restaurant fundraisers for things you care about. Bring people together at a local restaurant to support causes that are doing amazing work around the world or fundraise for groups like your school, church, college club, or any other 501(c)3 non-profit organization.

Recent Guest Reviews for Fazoli's E Carmel - Indiana
(Displaying 6 out of 52 reviews)
Great service and helpful team members! Speedy service and hot tasty food! Thank you so much Carmel team!!!

Heather, S

Missing silverware and napkins. Parm fries were put in my bag by mistake but the employee ran out to my car to give me the correct item. Soda was flat. I had to use my Starbucks straw to eat my meatballs. Very disappointed.

Wayne Hamilton

1st visit on ( 6.11.19 )- was extremely rushed while trying to place my order. There was no line in the drive thru, so it was very irritating being under pressure to decide what I wanted to order.
2nd visit ( 6.13.19 ) - had this visit not happened- I wouldn't have left the review from the first time on Tuesday.
- staff member advised she would be right back to take our order while in the drive thru
- once she was back to take the order, we still weren't ready to place it, however I was asked multiple times what we wanted and if that was all... I placed our order and I clearly requested no ice in my coke.
-got to the drive thru window and was given my total - As I handed her my phone for my rewards on my Fazolis app she scanned it, then stated "the total is STILL $xxx" (she acted like scanning the phone was a huge inconvenience)
- she then snatched the cash out of my hand and then provided me with my change
- We were handed our food and the cashier said thank you
- I then reminded her that we had a drink we hadn't received yet
- she handed me the drink which had ICE in it. I reminded her that I had requested no ice in my coke- her reply was "just keep that" (referring to the coke with the ice)
- I then got my coke with no ice
**** this is the same person that I had to deal with both times I went to this Fazolis location this week*** as much as I love the food here, I will not be back to this location due to the rude customer service I have received by this one employee ****
RECEIPT INFO::
DATE: 6.13.19 11:58:35 AM
#7 Drive Thru
Employee: DT Ordertaker
Total $14.16

Rated a one star since I didn't have the option for zero stars.

Melissa H

I went inside to place my order because there were several cars in the drive thru line and I assumed it would be quicker/easier. My order was taken right away, at 6:16 pm. I only ordered an order of 6 meatballs. I stood 10 ft away from the counter the whole time and was finally served my small order of 6 meatballs at 06:30 pm. The store was busy and I don't mind waiting, but the staff seemed completely overwhelmed and unorganized. When I was finally given my order, I was handed a bag by a gentleman, who I'm assuming was the manager on duty. He walked over to me and asked if I was #1, which I was. He then said, with clear annoyance in his tone, "I've been looking all over the restaurant for you" I said "Sir, I've literally been standing in this same spot in front of you for about 15 minutes" He only turned and walked away. No apology for the wait, zero acknowledgment for the poor customer service at all. Never once during my wait did he ever call out my order number or anything to let me know that my order was ready. The whole experience was pretty lousy.

Diana S

Take out order, 4/23/19, after 6pm, waiting close to the counter on my order the 2 cooks in the kitchen were having a good time, laughing, talking about what one of them did to a 5th grader, very loudly. Then one says to the other, I can't believe you said all that in front of that 'old lady', referring to me. They laughed hysterically while making my 3 to go pasta dinners, basically making fun of me, a forty year old woman. One was dark hair, pony tail, full beard red shirt, the other man was bald, goatee, gold necklace, navy shirt. I said nothing because I didn't trust them to not do something to my food, although I wanted to say GROW UP AND HAVE SOME RESPECT for your CUSTOMERS. The bald goatee guy was eating a piece of pizza in the kitchen right behind the area they pass the food up and the girl working drive thru came over & said still waiting on my pepperoni pizza for drive thru, WHICH YOU'RE EATING! He then had to make another one. Meanwhile cashier Jacob (name on my receipt) is bagging my entrees and realizes that after bagging some of the breadsticks earlier, I ordered an extra dozen, that there were none. So red shirt guys grabs a tray of breadsticks to put in the oven and I wait longer. When Jacob gave me my order I said how many bread sticks total, he said 18, I wanted to make sure he got them all, but when I get home we were 2 short. I understand this is fast food and it's hard to find good help, but do you not have night management that keeps these so called men in line? It's a business. I totally understand having fun at work & liking your coworkers, but disrespecting customers, unacceptable. We won't be back, but wanted to let you know what goes on at this location.

Sarah

The meal we ordered was really good and hit the spot. And, the new Cinnamon Swirl Breadstick Bites were super delicious. However, no one told us the bowl they were being served in was 250 degrees and taken directly from the oven and, thus, I burned my middle finger and I touched it to move it. It wasn't a bad enough burn to warrant medical attention other than a piece of ice and maybe some burn cream when I get home. I suggest you figure out a different way to serve this or you are going to subject yourself to lawsuits when kids touch the bowl since no one is mentioning that it is friggin' hot!

Rob H
About Fazoli's
Welcome to Fazoli's fast, fresh, Italian restaurant in Carmel, IN. Our Pasta and Sauces, Breadsticks and Salads are FRESHLY prepared throughout the day. Oven-Baked Dishes and Submarinos® are never baked 'til you order them! Made with 100% Real Mozzarella and Provolone, vine-ripened Tomatoes in our Authentic Marinara Sauce, plus Garden Vegetables, our food isn't "fast food." It's fast, fresh, Italian!
Restaurant Amenities
Free Wi-Fi
Catering
Online Catering Ordering
Drive-thru
Take-out
Gift Cards
Senior Discount
Email Discount Club
Vegetarian Options
Employment Opportunities
Kid's Night
Kid's Menu
Lunch Special
Daily Specials
Handicap Accessible
Loyalty App
Online Takeout Ordering
Download The Loyalty App Today!

Earn 1 point for every dollar spent. Receive $5 for every 50 points.
Sign Up Now
Join Our Family at Fazoli's E Carmel - Indiana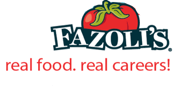 Nearby Fazoli's Restaurants